Another week of summer is over? I can't believe that July is nearly over and soon we will be back into the routine of school drop off etc. This last week though Texas wanted to make sure we didn't forget that it was still summer and I had the joy of sitting watching a soccer game in 107 degree weather! Its cooled down a little but the air conditioning unit isn't getting much of a rest even at night. With a soccer tournament last weekend I didn't get to do my post of new layouts so a little late is better than never.
Chelle of Chelle's Creations is celebrating her birthday this month and if you want a chance of winning a $10 gift card to her store over at scrap orchard check out this post and leave a comment. I love the felties that Chelle makes and includes in all her kits. She makes these by hand and cutting out the pieces by hand. Then she scans and extracts the images. Having learned about all the work that goes into the process of making these I can't look at her kits without thinking about all the time she has put into creating this awesome elements.
Last week she released some word art to go with a kit she has been giving away on her blog each day this month – if you missed the freebies don't worry as the first week in August she is releasing the full kit for purchase.
The wordbits as she called them helps add some great comments on layouts. I used the full kit plus these to create this layout of Anthony taking a nap on our vacation this summer.
Jenn CK Designs – Template Paper Inspired Vol 8
Don't you love the camera border she created as part of this kit??? I know with a photographer in the family I will be using this kit a lot.
This weekend I did a couple more layouts just for me. One is for the iron scrapper competition at scrap orchard . I downloaded the latest grab bag and created this layout.
The requirements for this weeks challenge were to use 5 or more pictures and there had to be at least 4 crowns on the layout. I'm getting into doing challenges they stretch your skill set and make you think out of the box. This time I knew I wanted to scrap these pictures as he's wearing a crown but the papers weren't quite the right color so I had to do some re-coloring of the papers and elements to work with my pictures – another advantage that digital scrappers have is the ability to do this. The template I used was – Fan Templates by Scrapping with Liz which is available at scrap orchard.
I had been waiting all week for the latest kit from Anna Aspnesto be released. I had seen a preview and knew I had to have it. Sweet Pea is the name of the kit and these are my favorite flower and the pet name I use for Eleanor. Anna is English by birth just like me and I love the artistic style of her supplies. Very different from Chelle's Creations.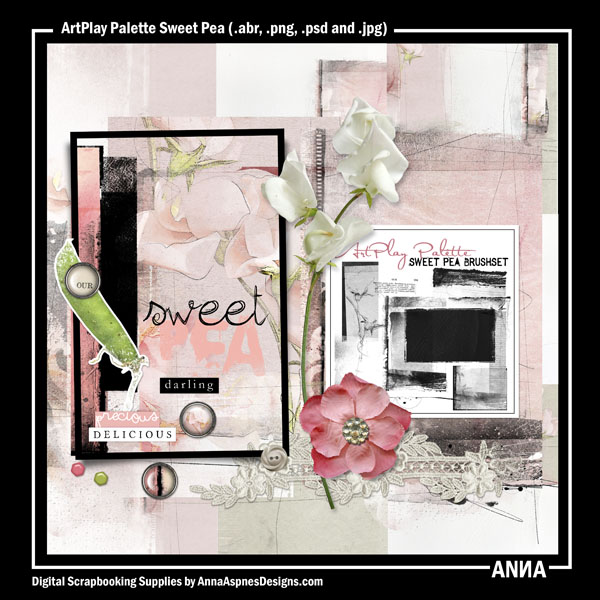 If you like this style of supplies you should check out the gallery at OScraps.com for some inspiration. The creative team she has working with her products create fantastic works of art. When she had the team call I applied but didn't get chosen. I'm glad now as I have so much to learn about this style of scrapping that I would have felt under lots of pressure. I don't think my everyday scrapping will become this style and I will remain doing the majority of my layouts so they look like paper but once in a while I love to create a more artistic layout and her kits make it so easy.
Here is the layout that she inspired me to create. I knew I wanted to scrap a childhood memory about the sweet peas my grandmother used to grow every summer and was so excited to find a picture of myself with a bunch in my hand which made it even easier. Its going to make a great addition to my all about me album. As a side note I'm really proud of the number of layouts I've been getting done for this album recently.
The response to this layout has been awesome in the online galleries I've posted it. I like to share my layouts in digi land and its great when you get lots of comments. If you haven't shared your layouts at a online gallery I recommend it. There are lots of different ones to try. I like to try and post layouts in the designers home gallery so they can see how their products have inspired me. If you post remember to leave some love for others.
Before I sign-off a question? I'm trying to think where to take this blog. Any suggestions as to what is missing in the blog digi world?
Ronnie