Only got back from our vacation on Tuesday but it feels like it was weeks ago. I've been running around playing catch-up in lots of areas of my life. I had some commitments in terms of scrapbooking for the teams I'm on. I did no scrapbooking while we were away we didn't have room to bring my laptop.
The July Simple Scrapper Premium Membership templates layouts for the July downloads were due. So I decided to create a couple of pages for my all about me album using pictures from our trip. I may use these pictures again in my trip album but I don't worry about using pictures twice if I'm using them for a different purpose in terms of the story behind the layout.
All supplies Chelle's Creations (Family Tree and Traveler)
All Supplies Chelle's Creations (Yeehaw Bundle)
Note that one of these layout is an 8.5 by 11 layout. I have page protectors of all sizes in that album and it looks great. It provides a different look to the album and it doesn't stress me. If you don't like that you could always convert a template to a 12 by 12 layout if your using a template like this.
Chelle's Creations also had a release on Thursday which I needed to get a layout done for. Her release was some great collage templates. I love this type of template as I always have so many pictures I want to include on my layouts and these are a perfect solution – I will using them a lot.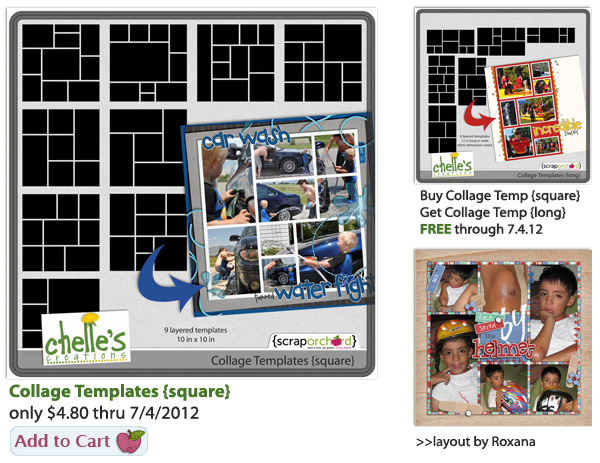 As I had my SD card from my camera out I decided to do another layout using my pictures from our vacation. My layout features the pictures I took of some jellyfish. I got my love of these sea creatures from my mother and whenever I see them I feel closer to her. I used Chelle's Templates to create the right side of the layout and then blended two more pictures into the paper to create the left side. I was really happy with the results and will add this layout to my all about me album as well.
Don't you love these!
I've done a couple more layouts today but I'll save them for a later post.
Have a great weekend. July tomorrow don't forget!
Ronnie